Today I have a great opportunity for you to be encouraged, as well as to help my family with our medical bills.
Recently I downloaded two great e-books about healthier eating. I am always talking about eating healthier and plan to start doing it just any day now. BUT I always seem to find some excuse not to start, or if I do start it never lasts long. I use great reasons like--- eating healthy is too expensive - or - healthy foods don't taste good - or - preparing healthy meals take too long. Maybe you are like me. If you are, these e-books by Erica Johns are just what you need.
The first book is entitled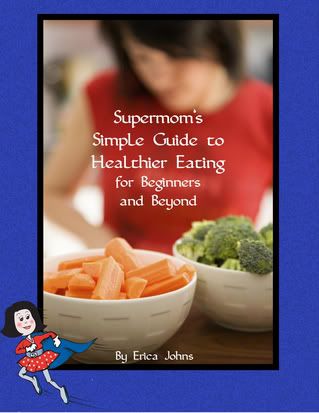 Supermom's Simple Guide to Healthier Eating for Beginners and Beyond

It is 84 pages of easy, encouraging, and helpful reading. It makes eating healthier simple. Erica supplies the reader with great ideas on slowly removing harmful foods and beverages from our diet and offers healthy, energy-boosting alternatives. She includes recipes as well as wonderful breakfast, lunch, and dinner ideas.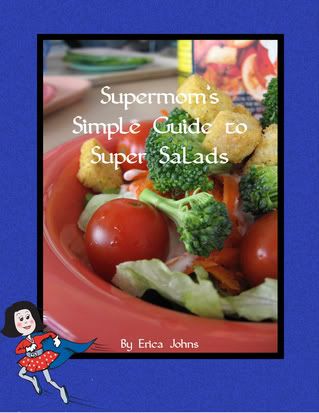 The second e-book is Supermom's Simple Guide to Super Salads

It is a very informative 23 pages of helpful tips, ideas, and information. Personally, I like salads, but often just don't bother because of the time required to prepare a salad. "Super Salads" is just chock full of recipes for salad dressing and guacamole as well as healthy veggie combinations. Since reading these 2 e-books we are making a concentrated effort to eat healthier, and we have a mouth-watering, nutritious salad everyday at lunch.
I am getting to host a special offer for you to have the opportunity to get the 2 e-books for half off the regular price PLUS a whole bunch of bonus items. An additional PLUS to this offer is that 50% of the price of your purchase will be to help meet the surgery expenses for my husband Samuel. (That need was discussed in the previous post). Not only will your purchase help us but if you would be willing to spread the word through your blog and contacts that would be a tremendous added blessing. Go here to see all the bonus goodies and to read more about the books.